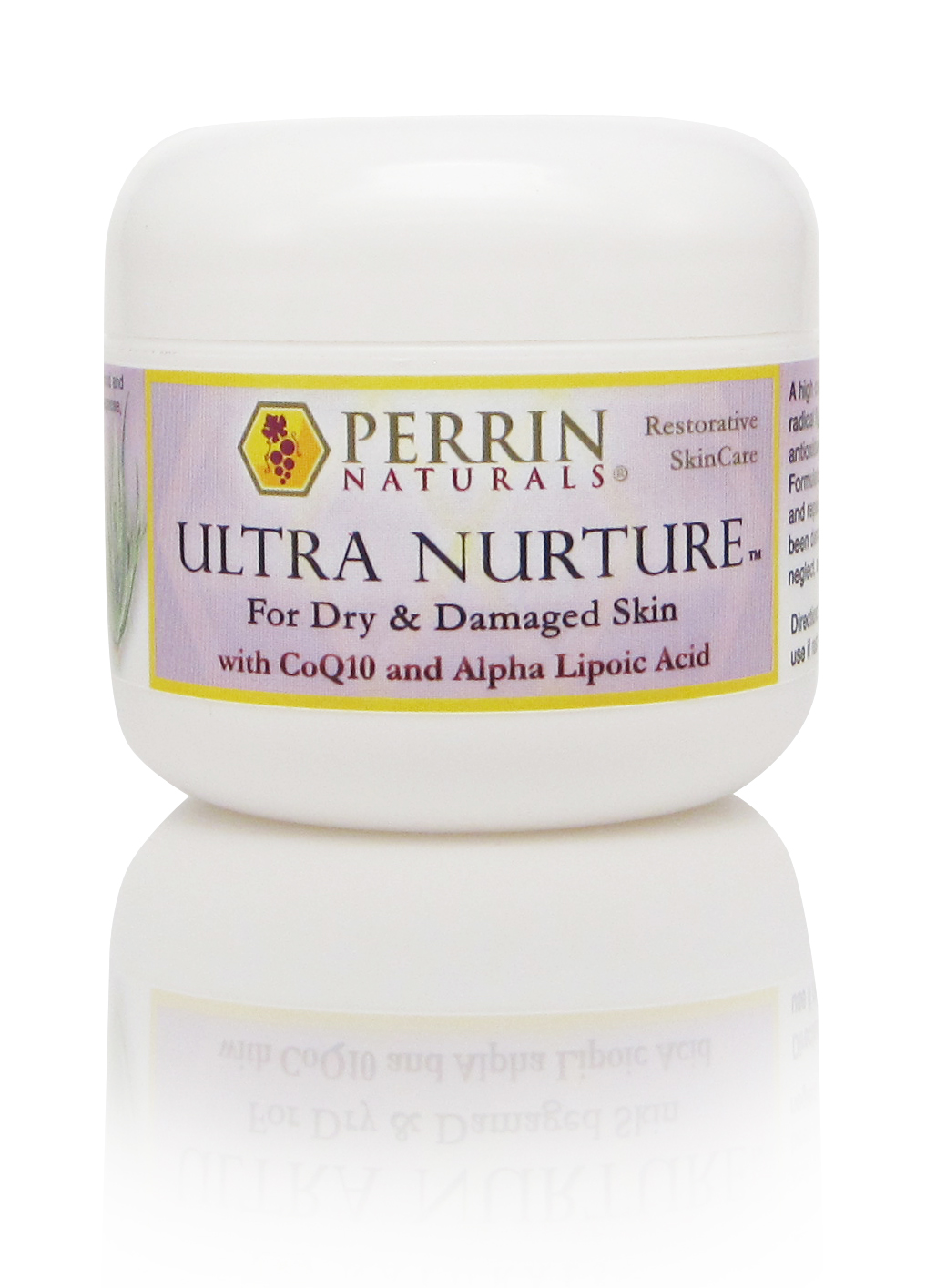 Ultra Nurture
Short Description:
Restorative Facial Moisturizer with CoQ10 and Grape Seed Extract, with Jojoba Oil and Coconut Oil.
Description
Ingredients
How to Use
Ultra Nurture:
All Natural Anti-Aging Moisturizer
Beautifying, Moisturizing, Restorative.
The Ultra Nurture™ is a natural, vitamin enriched, antioxidant, moisturizing cream for the face and body, and a gentle exfoliant.  Being milder than the Crème Complete™, and lighter in consistency than the Nutra Cream™, the Ultra-Nurture™ is perfect for those looking for a gentle, all natural anti-aging cream to use as a daily facial moisturizer.  
Great for a daily facial moisturizer.

Contains grape seed extract and CoQ10 for a corrective and anti-aging effect.

Jojoba oil helps give balance to oily skin.

Alpha Lipoic Acid helps to reduce fine lines and wrinkles.

Sunburns: The high content of organic Aloe Vera makes the Ultra Nurture a excellent healing cream for sunburns as well as heat burns.
Organic aloe vera, grape seed oil, almond oil, organic extra virgin olive oil, organic virgin coconut oil, natural vitamin E(in soy oil) organic safflower oil, organic jojoba oil, organic castor oil, pure honey, organic beeswax, emulsifying wax, organic vegetable glycerin, organic lecithin, Vitamin C, grape seed extract, alpha lipoic acid, biotin, n-acetyl-cysteine, vitamins A & D, CoQ10, peppermint oil, lemon oil, clove oil, geranium oil, frankincense oil, organic corn starch, sodium bicarbonate, rice flour, cream of  tartar, xanthan gum.
Contains soy. Vitamin D is derived from fish oil.
Use as a daily moisturizer for face or body.  Use as often as desired.
For use as a sunburn cream:  Apply as often as possible, especially as soon as the sunburn occurs.
For heat burns:  Apply to affected area, and cover with a bandage if possible.  Leave on for several hours.  
May also be beneficial for eczema, rosacea, psoriasis, and lichen sclerosus.