Manage Your Join Discomfort
Soothe Away™
An all natural herbal balm for joint and muscle discomfort.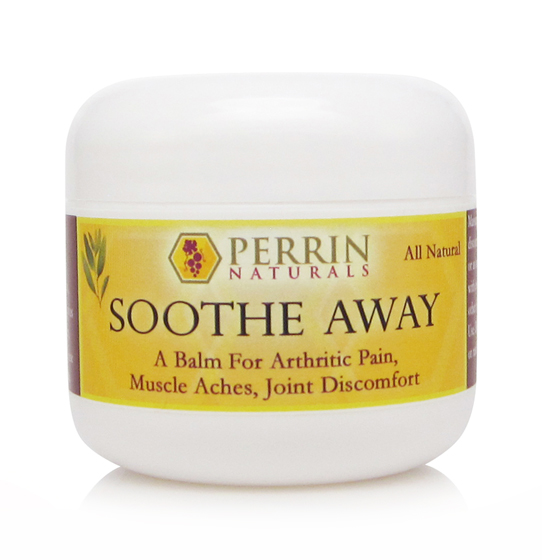 Incorporating a diverse range of anti-inflammatory and pain-reducing herbs and minerals, the Soothe Away ™ is designed to relieve inflammation and pain associated with muscle aches, joint discomfort, sprains, stiffness, arthritis, carpel tunnel syndrome, and over exertion.
Studies have shown that olive oil demonstrates anti-inflammatory effects.

Magnesium oil helps to reduce stiffness, soreness, and swelling.  Magnesium is essential for proper cellular health and can be absorbed through the skin.

Cayenne pepper help has been shown to aid in pain relief.

St. John's Wort is an herb that has been used since antiquity for pain and other medicinal purposes.

Calendula and ginger have detoxifying and anti-inflammatory effects.
Ingredients
Organic extra virgin olive oil, beeswax, organic St. John's Wort, organic calendula, eucalyptus oil, ginger oil, magnesium chloride, coral calcium, clove oil, peppermint oil, capsicum annuum, cayenne powder, vitamin D3.
2oz   $18.99
Helpful Dietary Supplements:
Joint Support
Osteo Support
Bone Support
Coral Calcium
Disclaimer:
The information provided on this website should not be used during any medical emergency or for the diagnosis or treatment of any medical condition. None of the statements on this website have been evaluated by the Food and Drug Administration.  None of the products sold on this website are meant to cure, prevent, or diagnose any disease.  Discontinue use of any product on this website if irritation occurs.  We do not suggest anyone use these products instead of seeing a licensed medical professional.