Soothe Away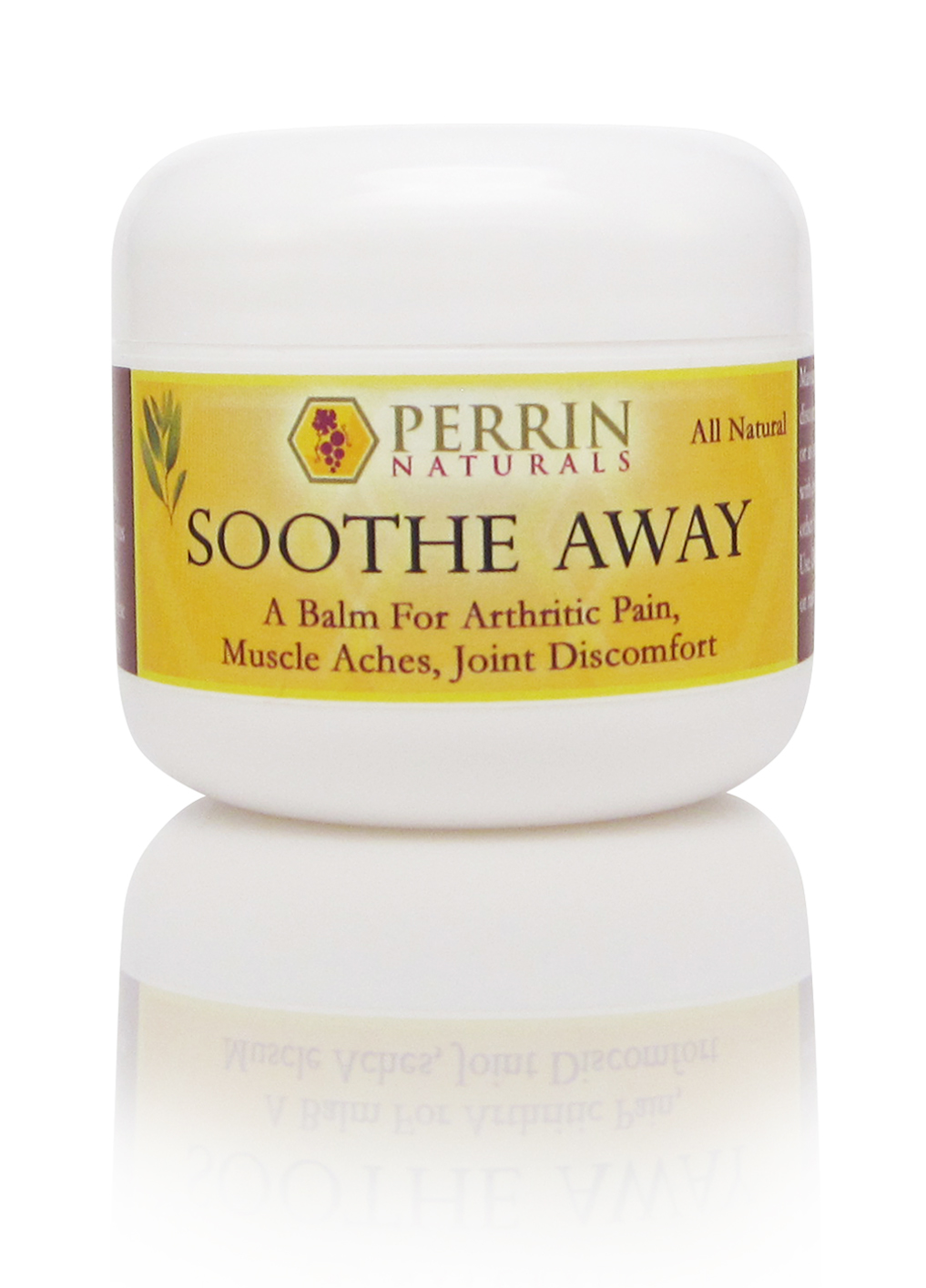 Short Description:
An all natural herbal balm for joint and muscle discomfort. Wth Arnica.
Description
Ingredients
How to Use
Testimonies
Soothe Away Cream:
For Arthritis & Muscle Discomfort
An all natural herbal balm for joint and muscle discomfort. - Now with Arnica.
Incorporating a diverse range of anti-inflammatory and pain-reducing herbs and minerals, Soothe Away is designed to relieve inflammation and pain associated with muscle aches, joint discomfort, sprains, stiffness, arthritis, carpel tunnel syndrome, and over exertion.
Studies have shown that olive oil demonstrates anti-inflammatory effects.

Magnesium oil helps to reduce stiffness, soreness, and swelling.  Magnesium is essential for proper cellular health and can be absorbed through the skin.

Cayenne pepper has been shown to aid in pain relief.

St. John's Wort is an herb that has been used since antiquity for pain and other medicinal purposes.

Calendula and ginger have detoxifying and anti-inflammatory effects.

Arnica is an anti-inflammatory medicinal herb.
2 fl oz
Organic extra virgin olive oil, organic beeswax, organic St. John's Wort, organic calendula, eucalyptus leaf, arnica, eucalyptus oil, ginger oil, magnesium chloride, clove oil, peppermint oil, cayenne powder.
Massage directly into areas of discomfort daily, on a continual basis or as often as needed. Avoid contact with eyes, mucous membranes (inside the nose, ect.), and genitalia. For External Use. Discontinue use if irritation or rash occur.
Hi Judy,
Thank you for taking time to speak with me today.  I wanted to share with folks my testimony about Soothe Away.  I have been troubled with carpel tunnel syndrome since I was 28 years old.  Now, fast approaching 58 years in age, I had a severe episode of carpel tunnel pain in my left wrist that left my entire hand and wrist untouchable.  The nerve pain was so severe that just touching my hand or wrist led to outbursts of screaming.  I know that sounds pretty silly, but bending my wrist in any direction by accident in just everyday actions produced tears.  I prayed and prayed for a non surgical solution to the numbness in my fingers and hand and the pain in my wrist.  I was led to use Soothe Away even though the product is not indicated for nerve pain.
I began to apply Soothe Away as often as I felt pain coming on, several times a day to the wrist and hand rubbing it in completely much like a deep massage. Since my hand had no feeling, this wasn't uncomfortable, but application to the wrist was painful. I continued with this treatment 4 – 5 times a day for two days throughout the day. At night, I worked the Soothe Away into the wrist and hand, applied a cotton glove and put on a surgical splint.  By the third morning, I was pain free.  I was able to move the wrist in both an up and down motion without pain.  My range is still limited, but what I can do is pain free.  My fingers are beginning to come alive again with lots of tingling.  I continue to use the Soothe Away and will do so until all numbness is gone and the sensation in the fingers is normal.
Thank God for this wonderful product.  Had I not been inspired to use it, I would be unable to type this testimony to you today.  Thank you from the bottom of my heart for saving me from the surgeon's knife.  I will continue to manage the carpel tunnel in this manner until complete healing is achieved.
God bless you all,
G.B.
Michigan
Deanna-
The only pain relief rub i can say helps. I have tried lots of rubs for muscle and joint pain. This one seems to help me.
We are each unique and different people and a product may be excellent for one and not for another. But I am so tired of reading rave reviews on so many products that made zero difference for me! This company I don't know how they do it but their products work for me!! I love the soothe Away I notice marked pain relief. The fungal cream I'm not sure of yet. But this itcheeze is phenomenal!!! I was sick and ran a high temp and ended up with a head to foot itchy rash. I scratched my legs until they bled. I received this product yesterday and within 20 minutes of application the itch stopped. This morning I was surprised how the redness had diminished and was healing. I want to keep this product on hand always. Thanks Perrin for such wonderful products!!! I was about to give up on natural and go to the MD drug pushers. If you haven't had results with other natural salves this is really worth trying! I want to try some of their other products.