3 Silk Comfort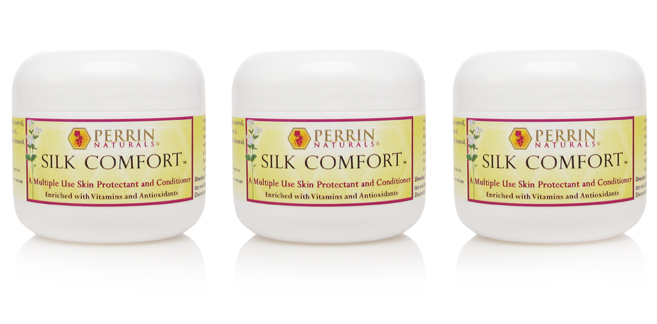 Short Description:
3 Silk Comfort discounted - Reg price is $62.97. Save $13!
Description
Ingredients
How to Use
Silk Comfort
A multiple use skin conditioner
The Silk Comfort™ was designed with versatility in mind.  While protecting and revitalizing the skin with a carefully crafted combination of oils and beeswax, enriched with the anti-aging antioxidants of Alpha Lipoic Acid and CoQ10, this multipurpose product can be used in a variety of ways.
Dry skin cleanser and revitalizer.

An excellent make-up remover.

An aftershave for legs as well as other parts of the body.

A skin protectant and moisturizer.

A Lubricant.

Massage therapy to relax tired muscles and reduce minor aches.

Great for restoring damaged cuticles.

Leaves skin satiny soft and smooth
Organic extra virgin olive oil, organic castor oil, grape seed oil, organic safflower oil, sweet almond oil, beeswax, vitamin E (in soy oil) vitamins A & D, CoQ10, alpha lipoic acid, jasmine oil, peppermint oil, rosemary oil, lemon oil. Contains soy. Vitamin D is derived from fish oil.
Make-up removal:
To remove make-up and other impurities:  apply with gentle rotation to dry or dampened face and neck avoiding direct contact with eyes, then after a few seconds simply tissue off.  Leaves the skin feeling refreshed and silkened.
For all other uses apply as often as desired.
A moisturizing protectant and conditioner

Lubricant

Aftershave 

Massage therapy

Cuticle restoration